FREERIDE FUN: SAFETY TRAINING FIRST
Knowing the rules and being trained to safety measures in the mountains is a key element to your own security and the one of the persons that go freeriding with you. You must be able to react in the right way in case of emergency and rescue, whether you are the first responder or the victim.
Numerous associations propose training courses about mountain safety rules and measures in connection to the different aspects of mountain safety.
An avalanche beacon won't be of much use if you don't know how to use it. And if theory is somewhat important, there is nothing better than a training in real conditions, in the field, to experiment the how the beacon works and learn how to properly and efficently use it. Knowing the method to search a victim with a probe and how to free the victim from the snow with the shovel is also indispensable. And as they say, you will remember 90% of what you do but only 10 to 50% of what you hear, see or read. You can also learn more about how to use a rope in the mountain, the knots, the harness, the snap hooks and other accessories thanks to climbing clubs or mountain rescue associations.
There is nothing like following a professional guide and learning from him about the mountain, or having a freeriding partner who is a trained expert mountaineer. You can meet people who have the time and the desire to share their mountain experience, knowledge and expertise in local Alpine Clubs for example, or again in mountain rescue associations.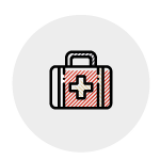 The first reactions one might have in case of injury are sometimes the worst and the first thing to do when you're the first on scene in case of accident is not what you might think. The holy trinity of the trained first aid repsonder is, in this order: protect (yourself, the others and the victim, avoid another accident), alert (snow patrol, emergency services), and rescue (sometimes by doing nothing). Having the right reaction and knowing what to do can be learned in a simple training course. You can find more information about those training courses at your town hall or your local emergency services. Moutain rescue associations can also send you to a training course.
You now know every aspect of freeride skiing safety and how to train in every aspect. Ready to share new skiing experiences and discover new sensations safely? Tell your stories, share your advice.
* The prices shown on the website are the prices recommended by the DECATHLON SA. central purchasing office.